Addressing Water Stains on Ceilings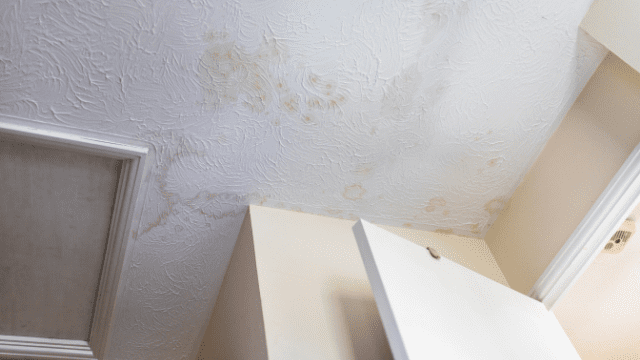 Imagine, if you will, this scenario: It's been a long day at work, and there's nothing you want more than to get home and relax. You want to kick up your feet and just unwind, have some dinner, and maybe binge-watch your favorite show. 
Everything is going well enough until you glance up and you spot something very unsightly on your ceiling. The darkened edges of moisture call attention to a water stain on the ceiling. 
It's something no property owner wants to see, and sadly enough it's a symptom of a larger issue. United Water Restoration Group of Austin would like to take the time today to give you some insight into water stains on ceilings, and the best option to confront them.
So You Have Water Damage; What're Your Options?
Think to yourself, what's a common trait of water stains on ceilings? The answer is that there's moisture causing it that shouldn't be there. In a multi-level building, this could be due to leaking pipes. In other buildings, perhaps it's a leaking roof. It can be any number of things, and all of them are impossible to determine at a glance. 
There are some important things to remember, and the first thing is not to panic. You've spotted the stain, and as long as it's not growing by the second you've caught it early enough that whatever damage lies behind it is going to be less than if you caught it later. Secondly, remember that any water stains you encounter aren't the source of your woes, they're a symptom.
When it comes to dealing with the source of water stains on ceilings, you're often going to want to call in professional help. A water stain on your ceiling is originating somewhere, and the source may not be as close to the stain as you think, and any source of water damage could also be promoting conditions of possible mold growth. Professionals that deal with water damage day after day can track a problem like this to the source and with their training and tools, can confront the issue and stop it in its tracks.
Don't Ignore The Problem, Call Today!
United Water Restoration Group of Austin is trained and well equipped to diagnose the source of the water stains on your ceiling, stopping water damage in its tracks and solving your water damage headache. Our staff of friendly experts is standing by to take your call 24/7 at (512) 772-2458. Give us a call today, we're here for you.